Upboard crashes on OpenCL and USB device use
We're experienced crashes on Ubilinux 4 when the GPU is doing OpenCL work and a USB device is plugged in. Sometimes this happens when a USB device is already open / being utilized and the GPU does work. These crashes manifest as the device booting or freezing. We're using the standard UpBoard. We've observed this on passive and active cooled versions.
To reproduce:
Install ubilinux 4
Connect 5V / 6A power supply + UART cable
Use minicom to operate the Up
Install build-essential git beignet-opencl-icd ocl-icd-opencl-dev
git clone https://github.com/ihaque/memtestCL.git
cd memtestCL
make -f Makefiles/Makefile.linux64
./memtestCL
0 -> enter
Connect a USB device in USB2 port. We've tested this with 4G huawei modem and Orbbec Astra Pro
Sometimes this causes a system crash / freeze
Further notes
Running 'stress -c 4' to stress test CPU and connecting a USB device does not cause any problems
Non-OpenCL GPU work is untested - it's not sure if any GPU stress + USB device is the problem, or if this is OpenCL specific
Happens with 5V / 4A and 5V / 6A powers
So far we've verified this happens with the USB2 ports - USB3 port is not certain yet
On some Ups the device hangs indefinitely, some Ups a reboot happens
We have reproduced this on 3 Ups so far (all devices we've tried). Two of them have a custom kernel for the librealsense changes, one is default ubilinux 4.
Is this a driver bug with OpenCL or USB, problem with ubilinux, or a hardware bug?
Sometimes this issue happens instantly as the USB is plugged in, sometimes it takes many reconnects. Sometimes it simply requires the USB device to be in use for a while. On our test video it took multiple replugs. However, before filming the video we got the freeze on first attempt.
Here's a video showing this problem: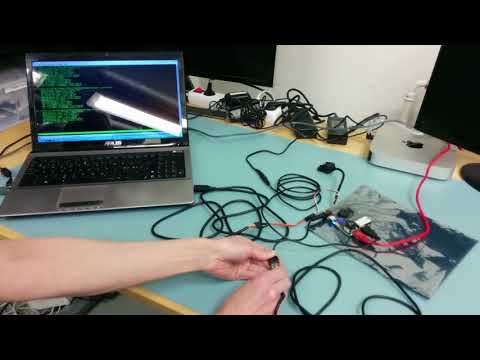 https://www.youtube.com/watch?v=l8x5Vii5jTQ
Sysinfo: Same as in this thread: https://forum.up-community.org/discussion/2852/nmi-watchdog-bug-soft-lockup-cpu-3-stuck-for-22s#latest: https://us.v-cdn.net/6030431/uploads/editor/g0/g8azf7z7yt2t.log
Comments